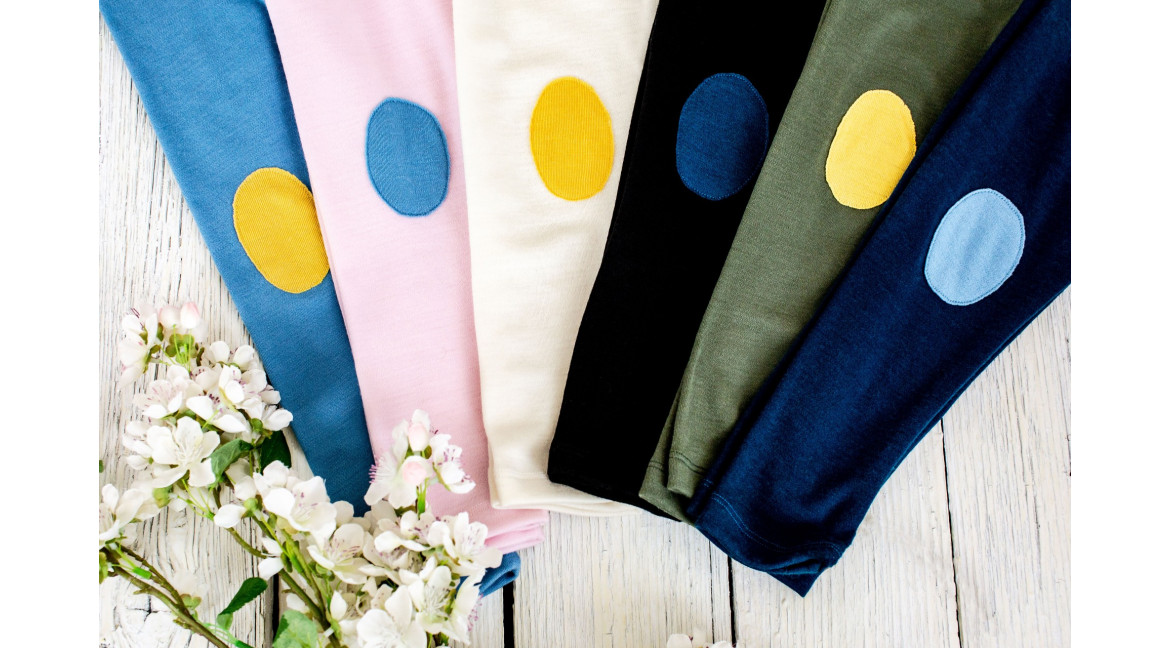 Which colour merino wool should you choose?
GREEN ROSE offers 9 colours of merino wool: white (natural wool colour), grey, pink, yellow, light blue, dark blue, moss green (khaki dark green), brown and black. In addition to that, there is also an option for white merino wool with silk.
Which one should you choose? Which one is the best to wear? Which one handles washing best? Which one is the easiest to look after?
Below we'll discuss each colour separately and outline its advantages and disadvantages. You will also find out how to look after your clothing so that it last for a long time and the colours stay vibrant.
White merino wool
One of the colour options for GREEN ROSE 100% merino wool is white. This is not snow-white, but rather natural wool white since the fabric is undyed and unbleached. If you've ever seen sheep wandering around a pasture, you'll know what the colour looks like, it has a tinge of grey and yellow. Some people call this colour champagne white.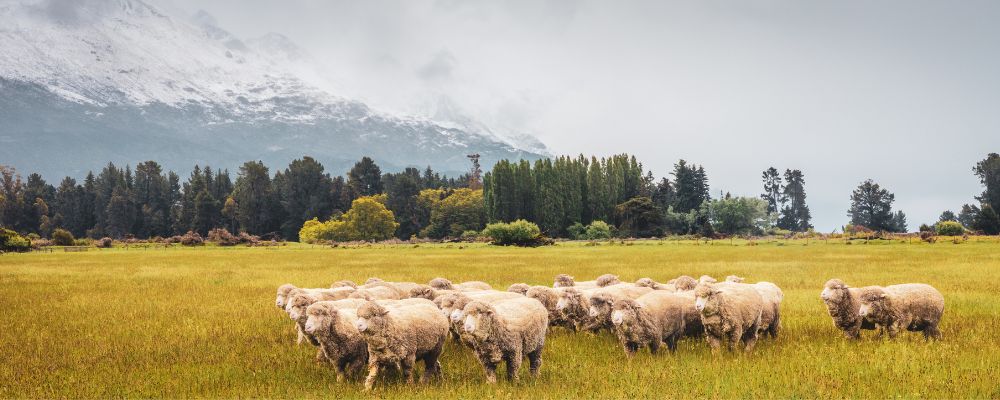 If you are interested in clothing that is snow-white, then we would recommend our clothing that's made of 75% merino wool and 25% silk. Due to the presence of silk in this fabric composition, the clothing looks white without any additional shades. This is the only colour that we offer for our clothing made of merino wool with silk. This is also a natural undyed colour. What's the difference between 100% merino wool fabric clothing and clothing made from merino wool with silk? You can find out about it in one of our articles: Merino Wool Vs Merino Wool with Silk.
White clothes are slightly transparent (this applies both to the options with and without silk), thus you should keep this in mind when selecting this colour, especially if you are looking for male clothing. However, if you wear a combination of two merino layers, they will no longer be transparent. For instance, a sleeveless or short-sleeved merino wool undershirt and a turtleneck top.
As we've mentioned before, white 100% merino wool clothes are natural, undyed, and unbleached. They have been the least processed in the manufacturing of the fabric. Thus, these clothes are the softest and the most pleasant next to your skin compared to other merino fabric colours. Wearing these clothes, you will experience the true softness and cosiness of merino wool.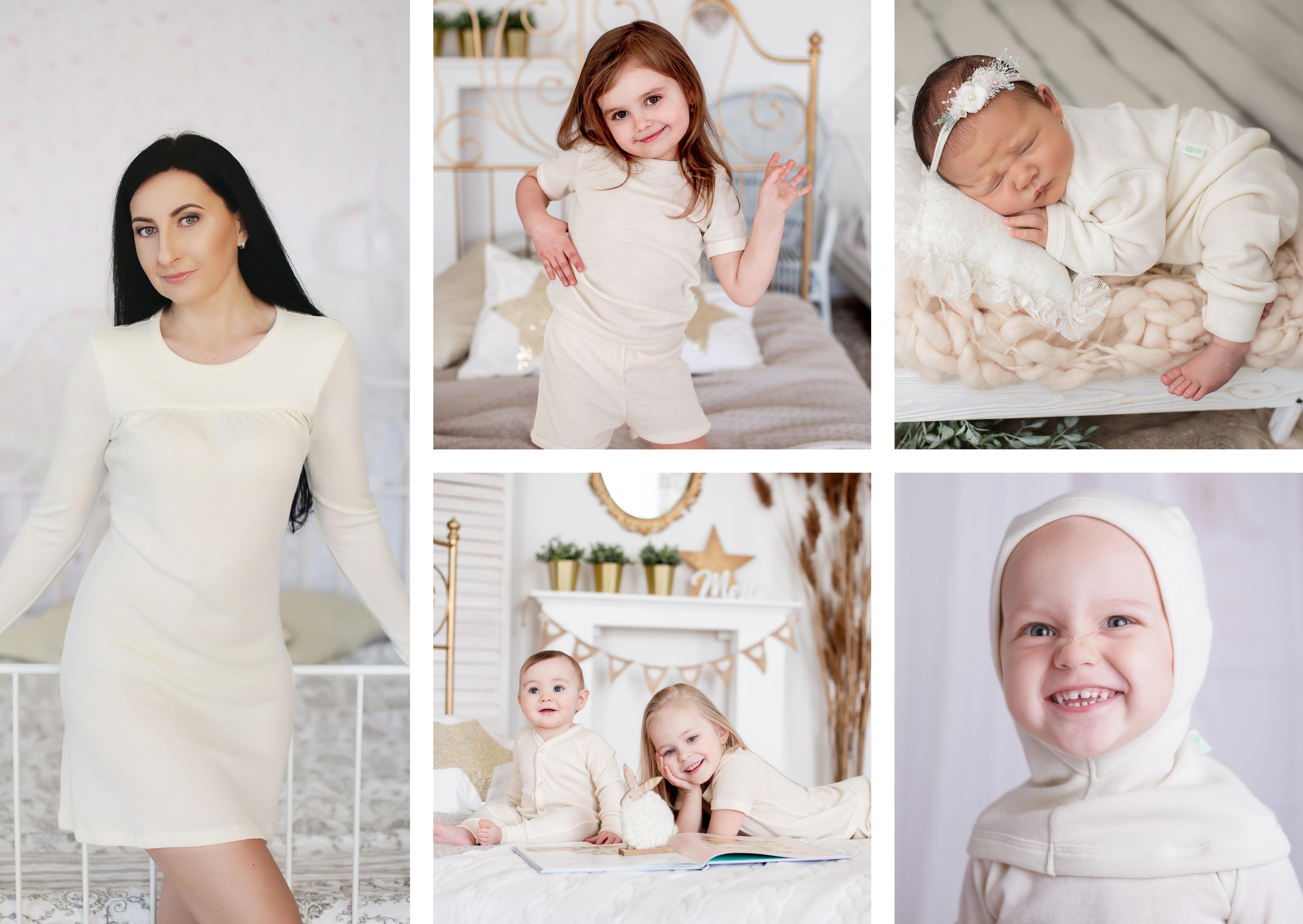 If you have particularly sensitive skin or some other skin conditions, this is the best option for you. If you are concerned that merino wool might irritate your skin, then we recommend trying out clothes made from merino wool with silk first. Silk adds even more softness and cosiness to the fabric and helps to eliminate the sense of irritation. By the way, the sense of itchiness when wearing wool can be psychological too. This can often be the case with teenagers who have had unpleasant experiences when wearing conventional wool.
We particularly recommend our white clothing (both 100% merino and merino with silk) to premature babies, newborns, children and as base layers for adults. The choice for the second layer can then be based on taste, colour preference and other clothes that would be worn together.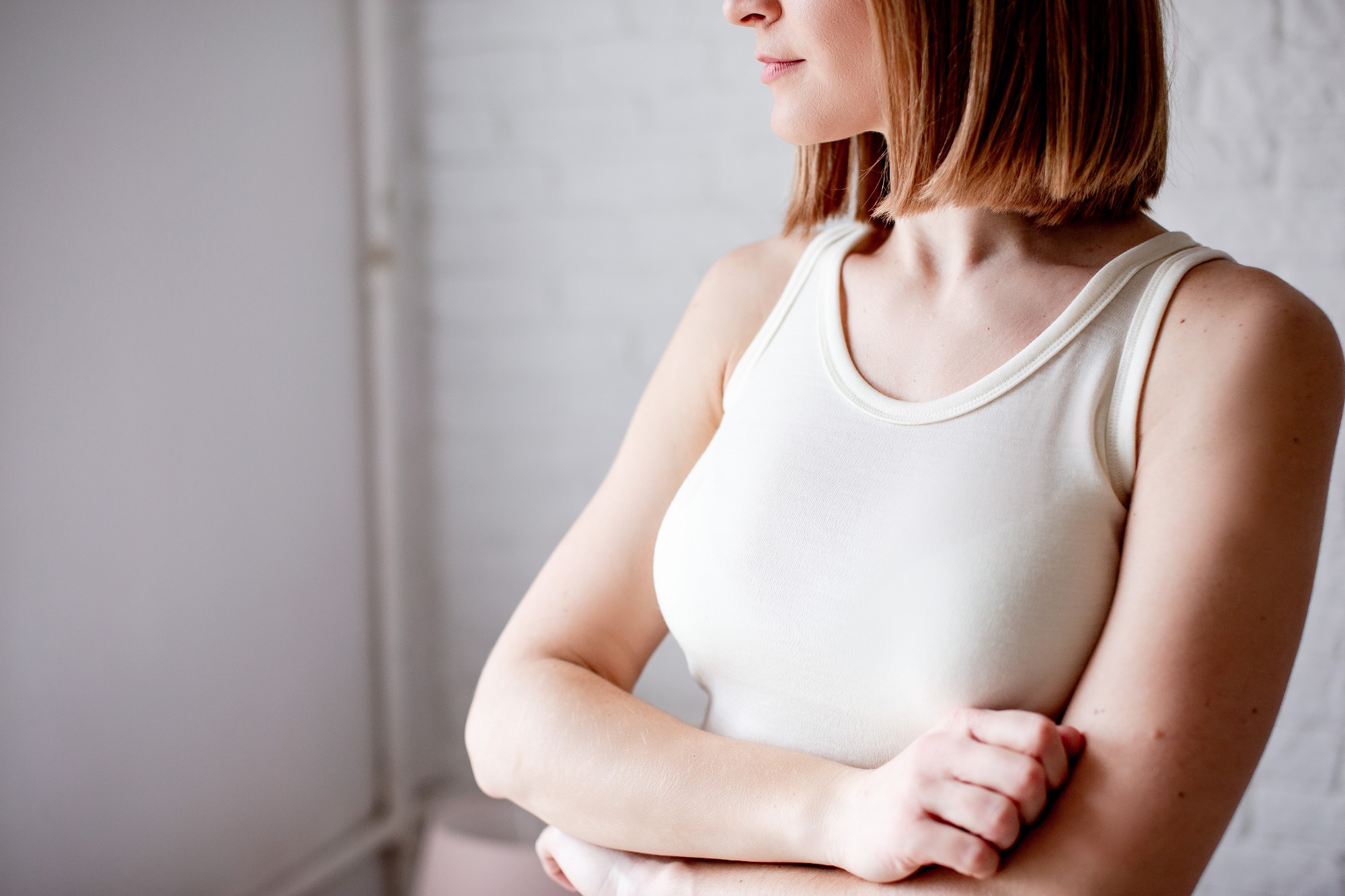 Occasionally white clothes that are worn under other clothing can gather a bit of lint and fluff from the layer above. Normally, these can be easily brushed off by hand or using a special brush or roller.
Merino wool clothing is not usually prone to getting dirty quickly, however, if it does get stained by food or dirt, some stains can be difficult to get rid of. We'll discuss how to best clean such stubborn stains in a separate article.
If you will be primarily wearing merino clothes as a base layer under other layers, in some rare cases they may still get stained. However, even if a piece of clothing is stained, this does not reduce its functionality and thermal regulation properties.
White colour clothing can be washed together with other merino clothing of light colours, this way it will stay white for longer. However (as with all white clothing) when white clothing is washed separately from all other colours, it remains truly white for significantly longer.
Light merino wool clothing colours
Grey, yellow, and light blue – these colours are the next in line for the least amount of processing in the dyeing of the fabric. They are soft and pleasant. Mums often choose these colours for their babies.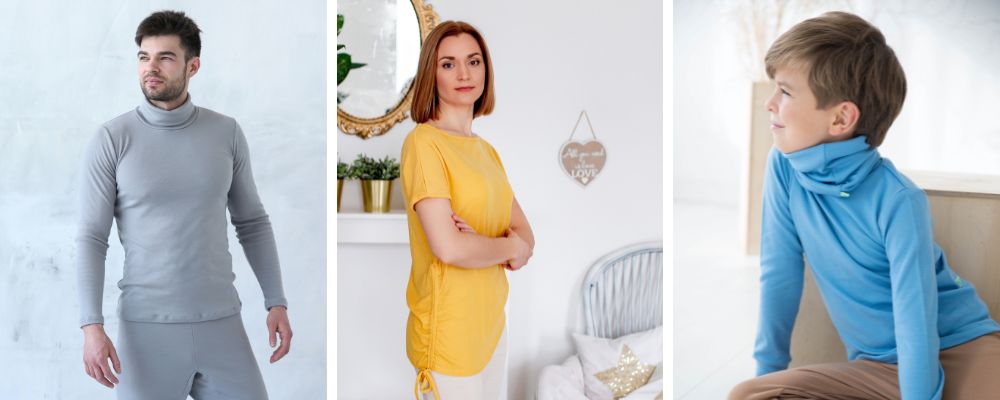 All these colours can be washed together.
If the clothes that you wear tend to pill, it will be least visible on clothing of lighter colour. If you would like to find out more about pilling on merino wool clothing, you can read about it here: Does merino wool clothing tend to pill?
One disadvantage of these colours is that stains caused by children can be quite visible and difficult to remove.
Dark blue merino wool
This is a colour that has been offered by GREEN ROSE the longest and it's still the most popular colour among our customers. It's also a colour that has caused the most discussions. Some call it blue and some call it green. We have also received many suggestions for alternative names for this colour – sea blue, navy blue, emerald blue, and others. One of our customers has described it this way:
'What makes your blue colour particularly beautiful is that is has this lovely tinge of green and it looks great on my child.'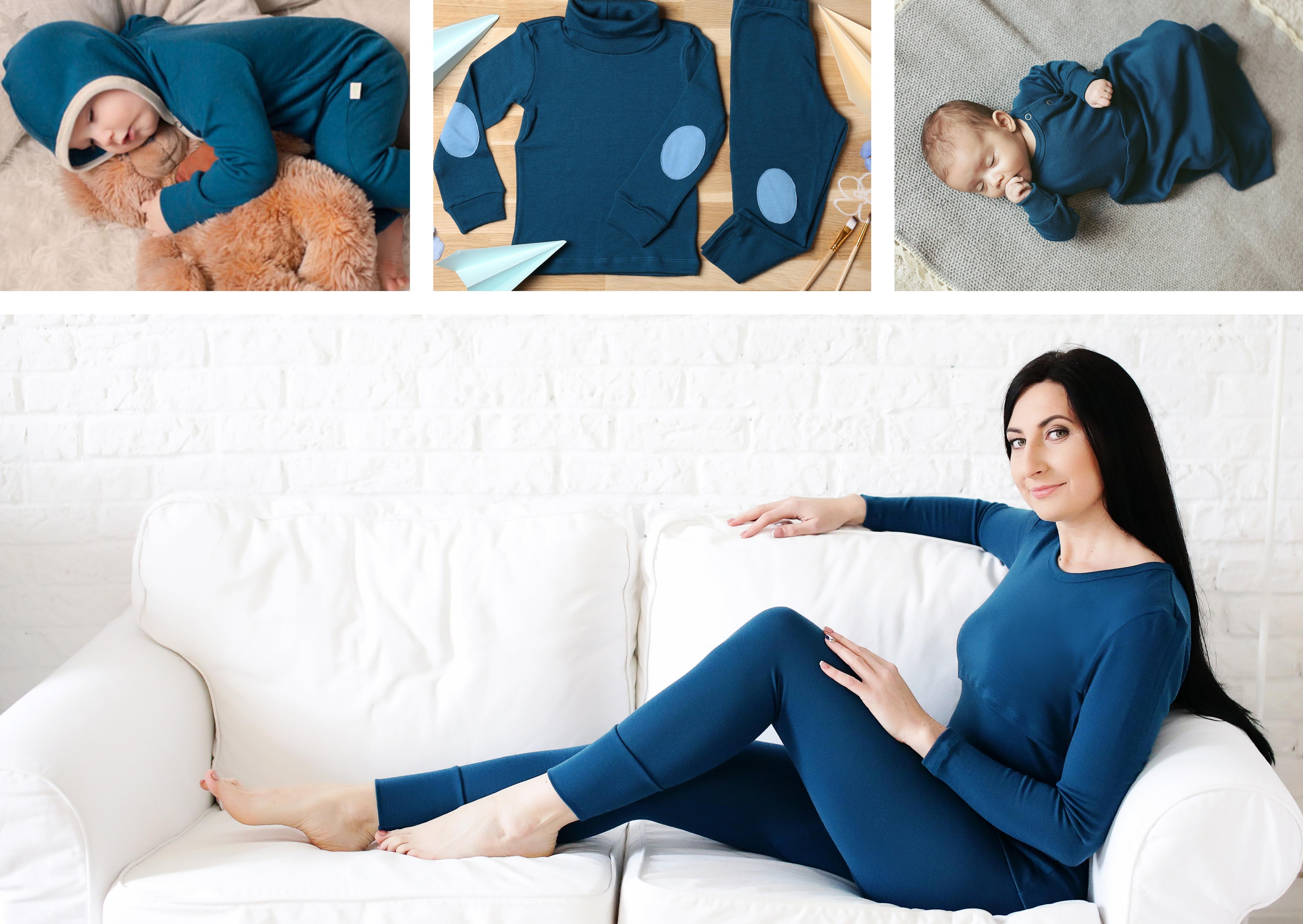 In our online store we refer to this colour as 'navy blue' and this is the option that you should select if you are would like to get something in this colour.
This colour is dark and thus we would recommend washing it separately from white colour merino clothes and other light colours. However, you can wash it together with moss green and black colours. We recommend washing your merino wool items in a washing machine on wool setting. If you prefer to wash them by hand, you may notice that when you wash clothing of this colour it might slightly stain the water blue during the first few washes. It shouldn't do that in any consecutive washes.
If the clothes that you wear tend to pill, this will be more visible on dark blue than on lighter colours as mentioned above. You can read more about pilling in a separate article; however, we can assure you that pilling on GREEN ROSE merino wool is minimal. We've been wearing merino wool clothing for many years and we have a number of clothes (most of them navy blue) that we've been wearing for 4-5 years and they still look great without any pilling. Nevertheless, even if your clothing does pill, it still maintains its functionality, keeps you warm, helps to regulate body temperature. There are also lots of remedies and tools to remove lint caused by pilling.
Moss green merino wool
This colour has replaced our light moss green and is also sometimes referred to as khaki. This colour is particularly suitable for children, top layers for adults, and turtleneck tops. It also matches with yellow clothing.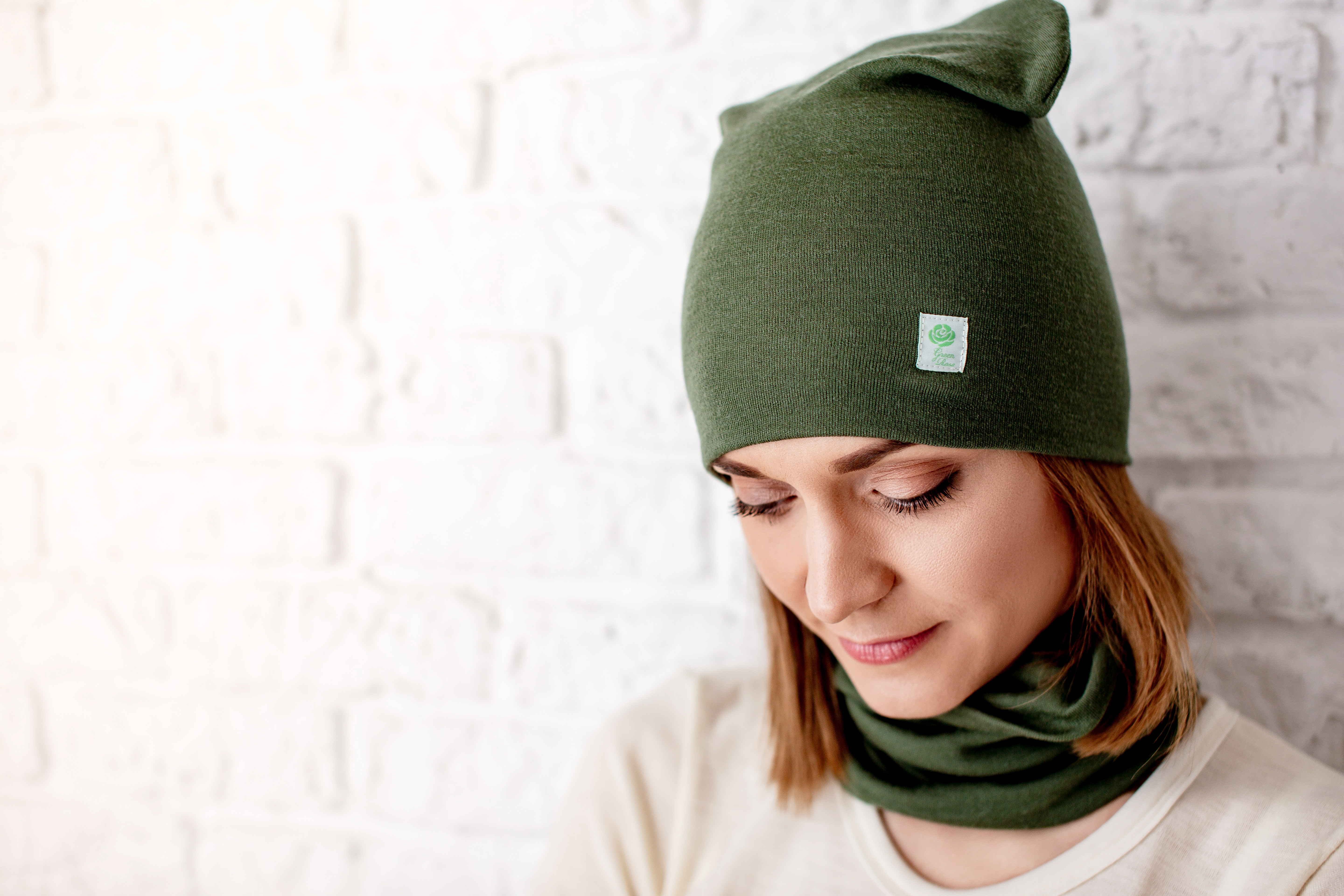 This is a darker colour and thus should be washed separately from light colours. The tips for washing, care, and wear for navy blue merino wool apply for this colour too.
Brown merino wool
This is the newest colour offered by GREEN ROSE. It has been waiting for its time to shine since November 2020.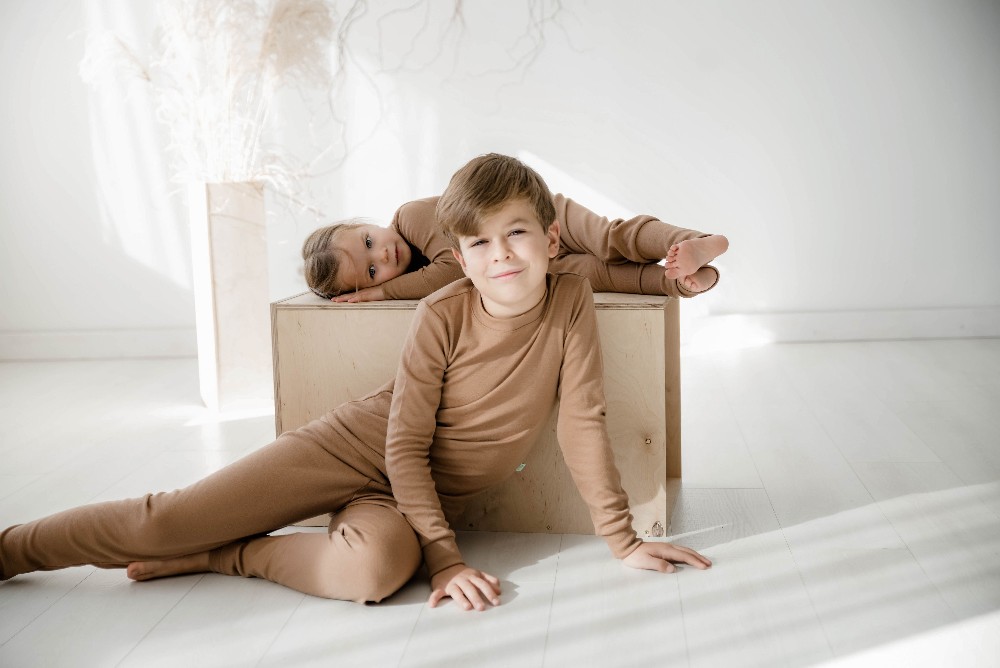 Dark pink (rose wine colour)
This is the newest colour that arrived in the fall of 2022.

Rose wine merino wool clothes are very practical. If you like pink, we definitely suggest you try it!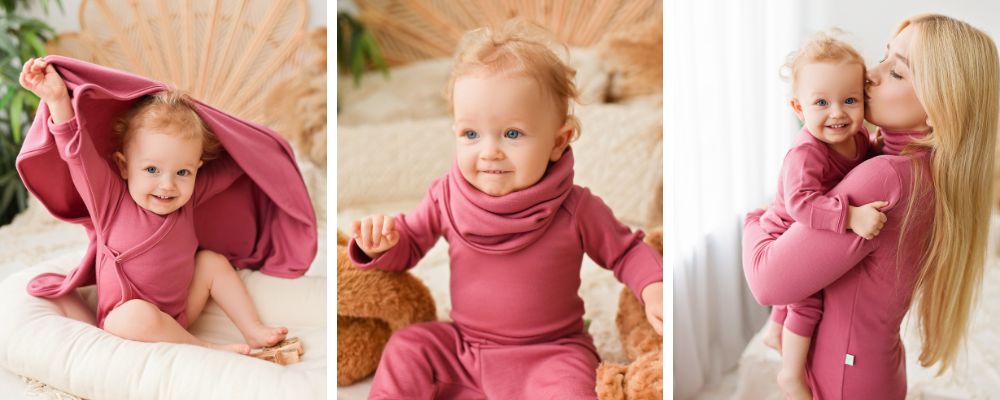 Black merino wool
This colour is the most popular among men. It's practical and matches any other clothing.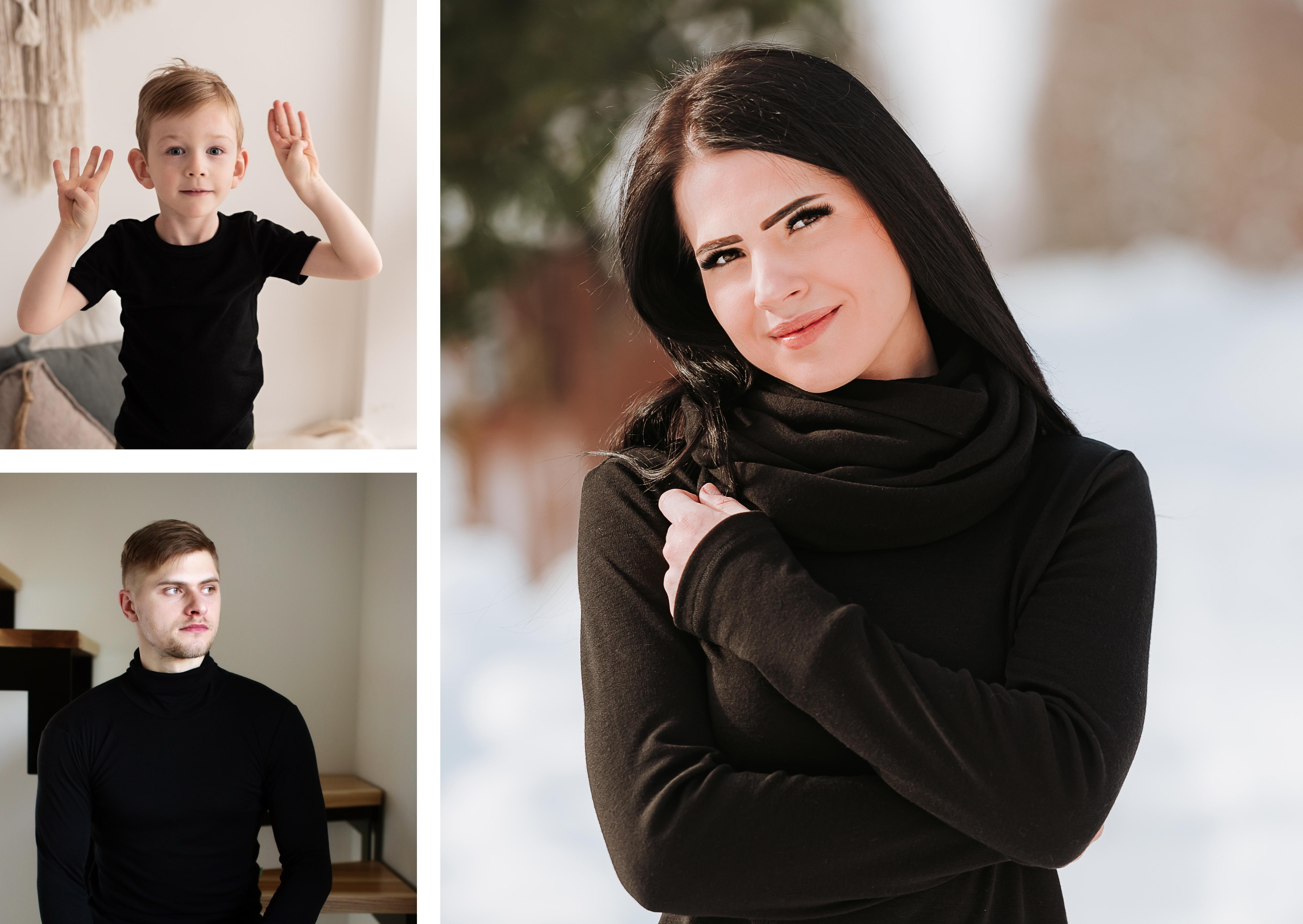 If you compare black merino wool with white (undyed) merino or other merino wool of light colours, you will notice that white feels softer and more pleasant. As we've mentioned before, this is because of processing of fabric when it's dyed. However, we would like to draw your attention to the fact that even black merino wool clothing is still soft and pleasant compared to conventional wool. Nevertheless, if you have sensitive skin or you think that you might find wool irritating to your skin, choose lighter coloured merino wool.
Black clothing is very functional, however, if you have a cat or a dog, the hair that might stick to the clothing will be much more obvious.
Which colour should you choose?
Our recommendation would be this, for the first layer of clothing that will be worn next to your skin, choose white or lighter colours, and for the second layer – choose darker colours.
We also recommend white or lighter colours for your little ones. Of course, you can always choose darker colours for newborn clothing (even black), just keep in mind the information we've provided above so that you know what to expect.
One more thing we would like to mention is that merino wool that we use to make GREEN ROSE merino clothing is made in Europe and is certified according to Standard 100 by OEKO-TEX. This means that the manufacturing of fabric does not include any processing that might be harmful to human health. In addition to that, fabric dyes do not include harmful substances that could cause skin irritation. GREEN ROSE merino wool items are suitable for babies and people with sensitive skin.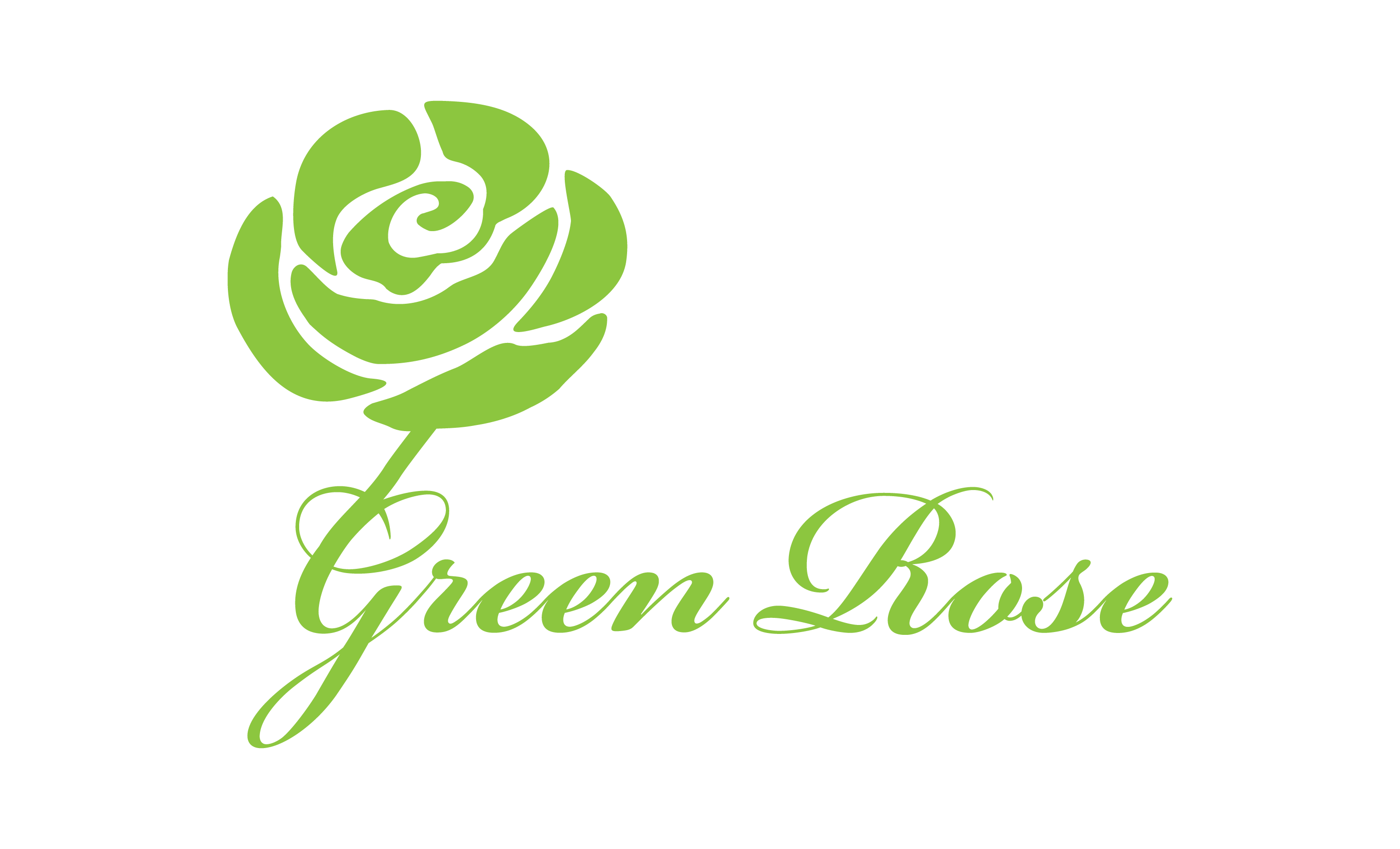 Which colours have worked best for you? What has been your experience so far? How do you look after and wash your merino clothing? We would love to hear from you in the comments. Every opinion is important to us and other customers will appreciate your tips when choosing the colour that would work best for them.