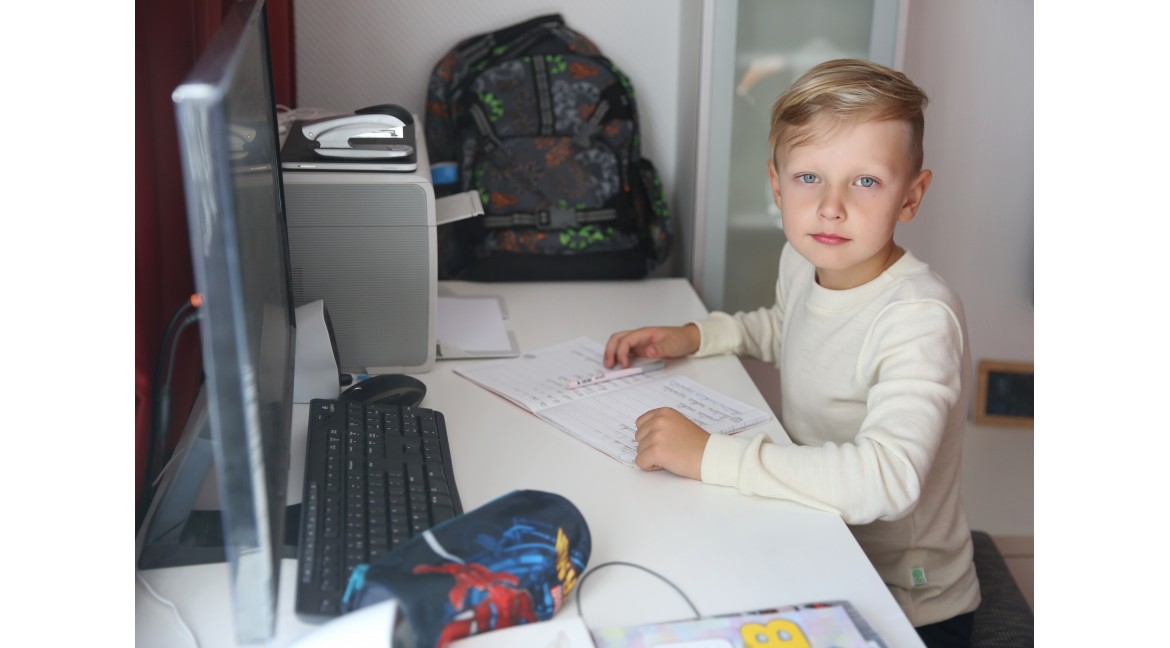 Kids Base Layer for School
How should I dress my children for school? That's a question mom's wrestle with on a regular basis – even when the school in question employs uniforms, because undergarments still have to match the school clothes, as well as be comfortable, warm and pleasant to wear, yet also prevent children from becoming overheated when running around during breaks.
Most moms have already tried clothing made from merino wool and have been left satisfied. Moreover, their picky children and teenagers have liked them, too!
In this article we'll be sharing the experiences of – and the feedback received from – several moms regarding merino wool clothing for school.
Clothes for school
My name is Edita, and I am a mother of two boys, as well as the author of a blog called Professional Mom. This September, our eldest son has started his last (eighth) year of progymnasium.
I am very pleased that the school my son attends has mandatory uniforms because that makes daily life less complicated and does away with the headache that is the question, 'What to wear?'
The uniform consists of a dark blue jacket and trousers, which leaves picking only a comfortable pair of shoes and a shirt to wear under the jacket.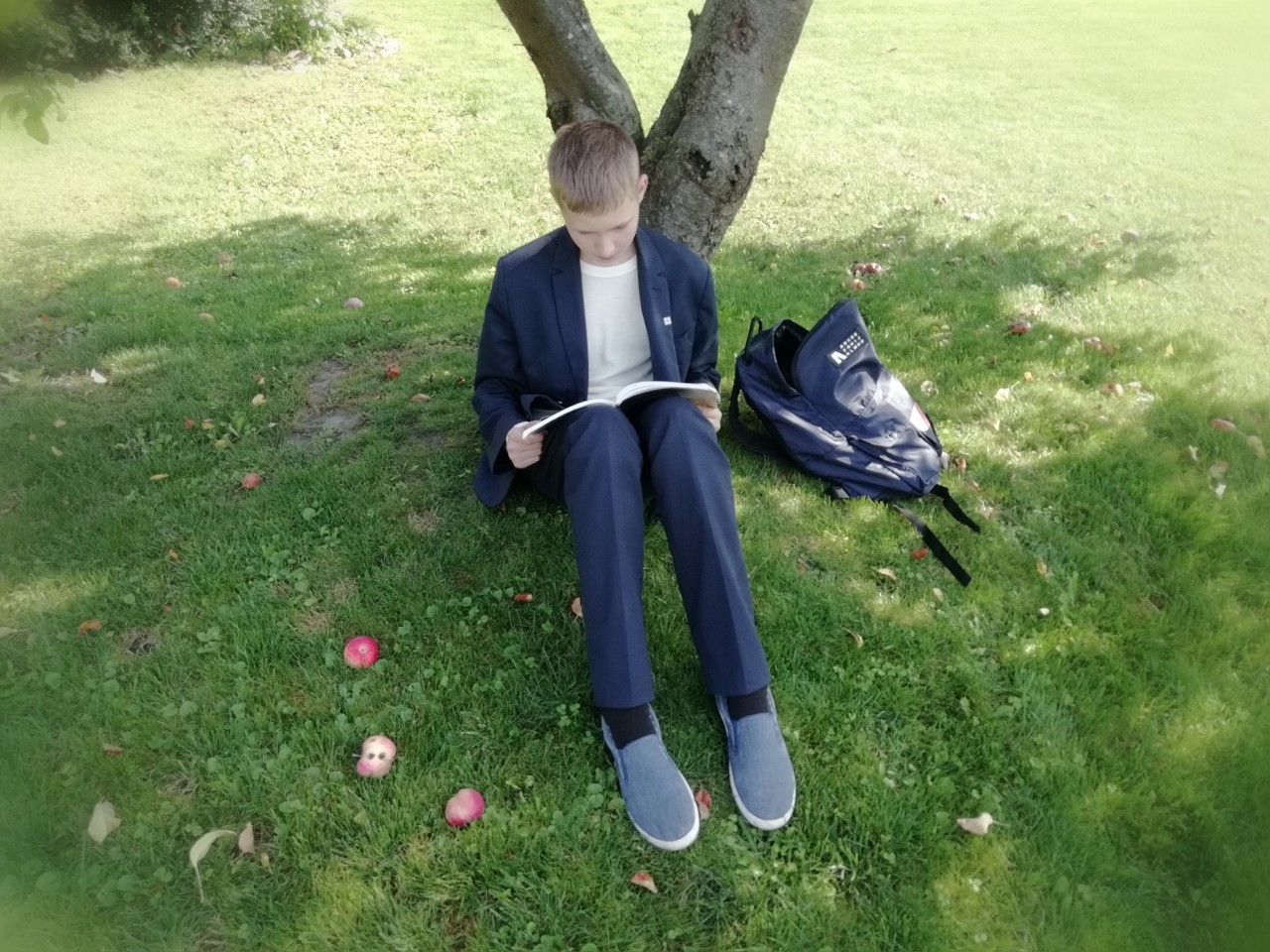 Since our family prefers natural and organic fabrics, we tend to buy clothes made from just such materials. This year, we have tried merino wool clothes for the first time, namely – a long sleeve shirt made from 100% GREEN ROSE merino wool, which our son wore under his school jacket. I would now like to share our impressions about the garment, emphasising a number of relevant aspects.
✔ Design and Appropriateness for School
When it comes to wardrobe, mothers of boys have it relatively easy, as boys will typically wear anything they've been given (although this may only last until adolescence). The GREEN ROSE merino wool shirt has a simple, neutral design, making it a favourite even with the fussiest of children. Our son loved the shirt, as he found that it doesn't restrict his movements. Furthermore, this garment is also a great match for virtually any uniform thanks to its attractive, neat design – truly an ideal solution for school.
✔ Clothing Sizes – Smallest to Largest
The GREEN ROSE clothing line contains excellent options for children up to 164 cm in height, and if your child is taller than that – you can always pick something small or extra small in the adult aisle.
My son's current height is 168 cm, meaning we are well beyond children's sizes at this point – the only clothes that fit him can be found in the adult section. After receiving a consultation from GREEN ROSE, we have chosen a male S which, we hope, will get us through the entire school year.
✔ Colours
Since our school prefers children to wear only single-colour – white, dark blue or red – shirts under the uniform jacket, the natural white shade of merino wool was just what we were looking for. We also liked that it's fairly smudge-resistant, easy to look after, doesn't fade easily, and requires no bleaching. In addition, I've noticed that all of the clothing from GREEN ROSE comes in cosy, beautiful colours, and the colour palette of children's garments is especially large, offering as many as 7-8 different options.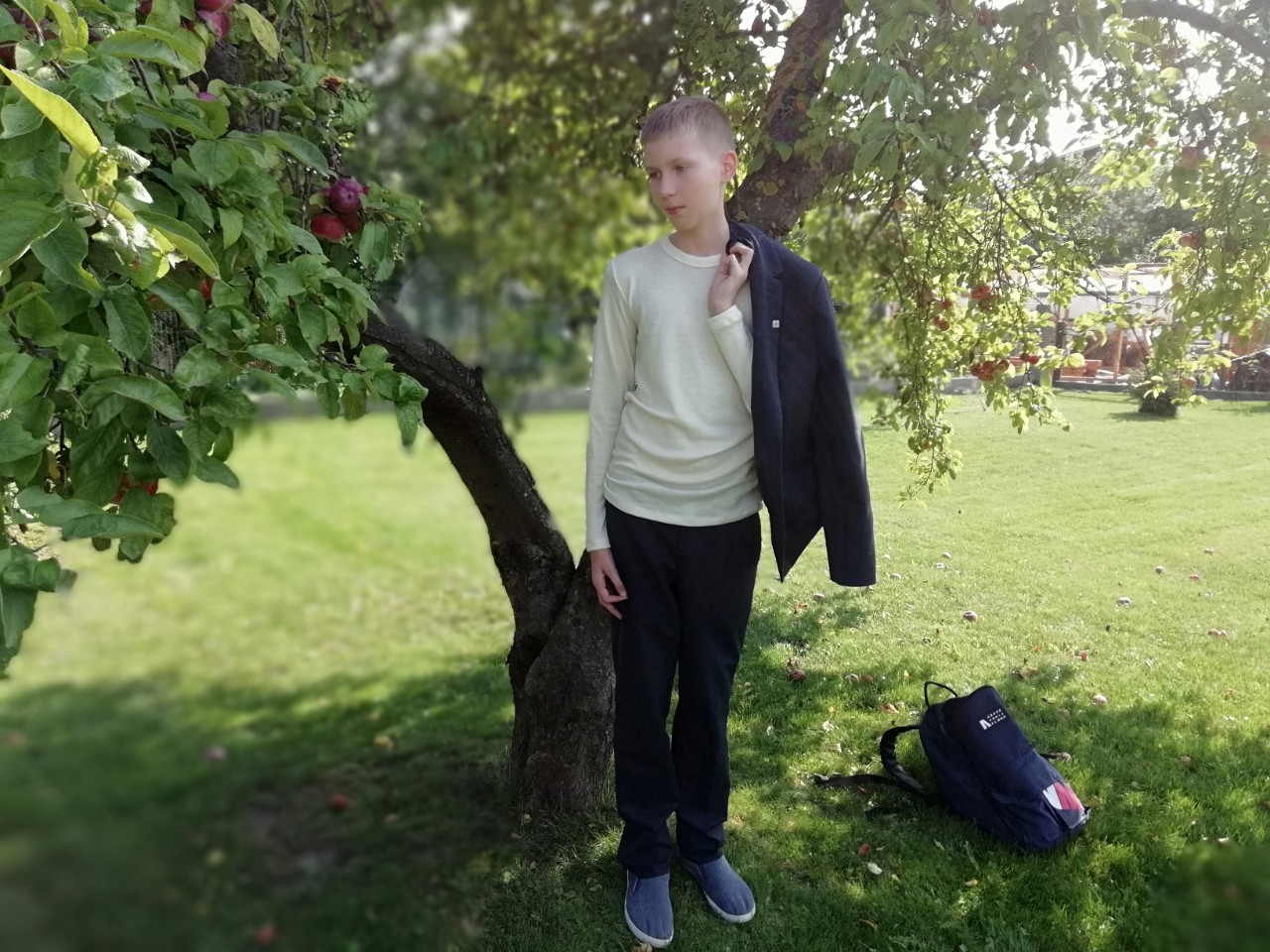 ✔ Characteristics of Merino Wool
Moms know all too well that personal hygiene grows in importance during the hormonal changes which take place in adolescence. The clothing for teenagers should be made from natural fabrics containing as few synthetic materials as possible.
Garments made from merino wool have antibacterial properties and allow the skin to breathe. Since they do not absorb unpleasant odours, all children have to do upon returning home from school is air them out in the balcony or elsewhere in the outdoors. Such clothes require washing only when stained. Washing merino wool is fairly simple, especially considering the fact that most washing machines available today have dedicated washing programmes.
Another thing which surprised me upon opening the package was how thin, smooth, soft, and non-prickly the shirt was – all qualities which come down to merino wool being significantly thinner than wool of other types. My son told me that wearing the shirt under a jacket was very comfortable and convenient – not unlike putting on a 'second skin' which does not lead to the feeling of being overdressed.
✔ Changes in weather are inevitable, but Merino Wool can help
Autumn and spring in Lithuania are typically characterised by highly variable weather conditions. Mornings when children leave for school are often cold, thereby requiring warmer clothing, and afternoons are usually warmer, or in some cases – even quite hot.
This is where the thermoregulatory properties of merino wool really shine. I have no doubt that my child will be comfortable even upon getting hot because merino wool is known for its moisture wicking properties which give the feeling of dryness. And when it gets cold, merino wool provides warmth and a sense of luxurious comfort.
✔ Merino Wool Clothing for every Pupil
Clothing made from merino wool is an excellent choice for all school children – from those in primary school to seniors. We are happy to have tried clothes by GREEN ROSE, and I am certain that next year's going-back-to-school list will include a number of garments from merino wool. These clothes are not only natural, but also universal, as they can be worn both as overwear and underwear. Merino wool clothing is appropriate not only for school, but also when exercising, travelling in nature, and enjoying winter activities – rest assured, such clothes will not settle at the bottom of the wardrobe.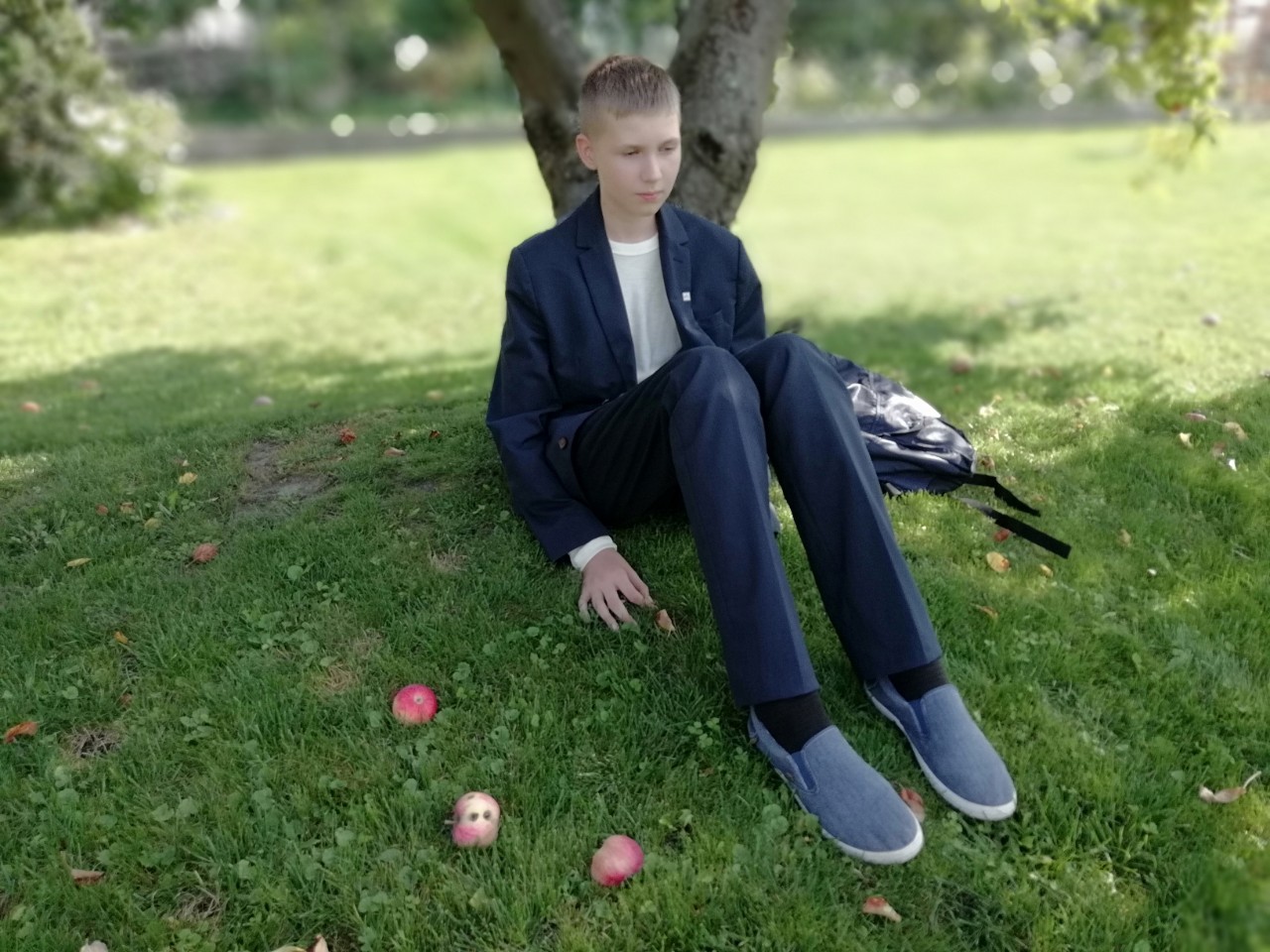 TOP 4 merino wool items for kids by GREEN ROSE
1. Single-colour long-sleeve shirts
These shirts are a great match for uniforms and other school-appropriate clothing. They're warm, pleasant to the touch, comfortable, thin, and great at maintaining optimal body temperature.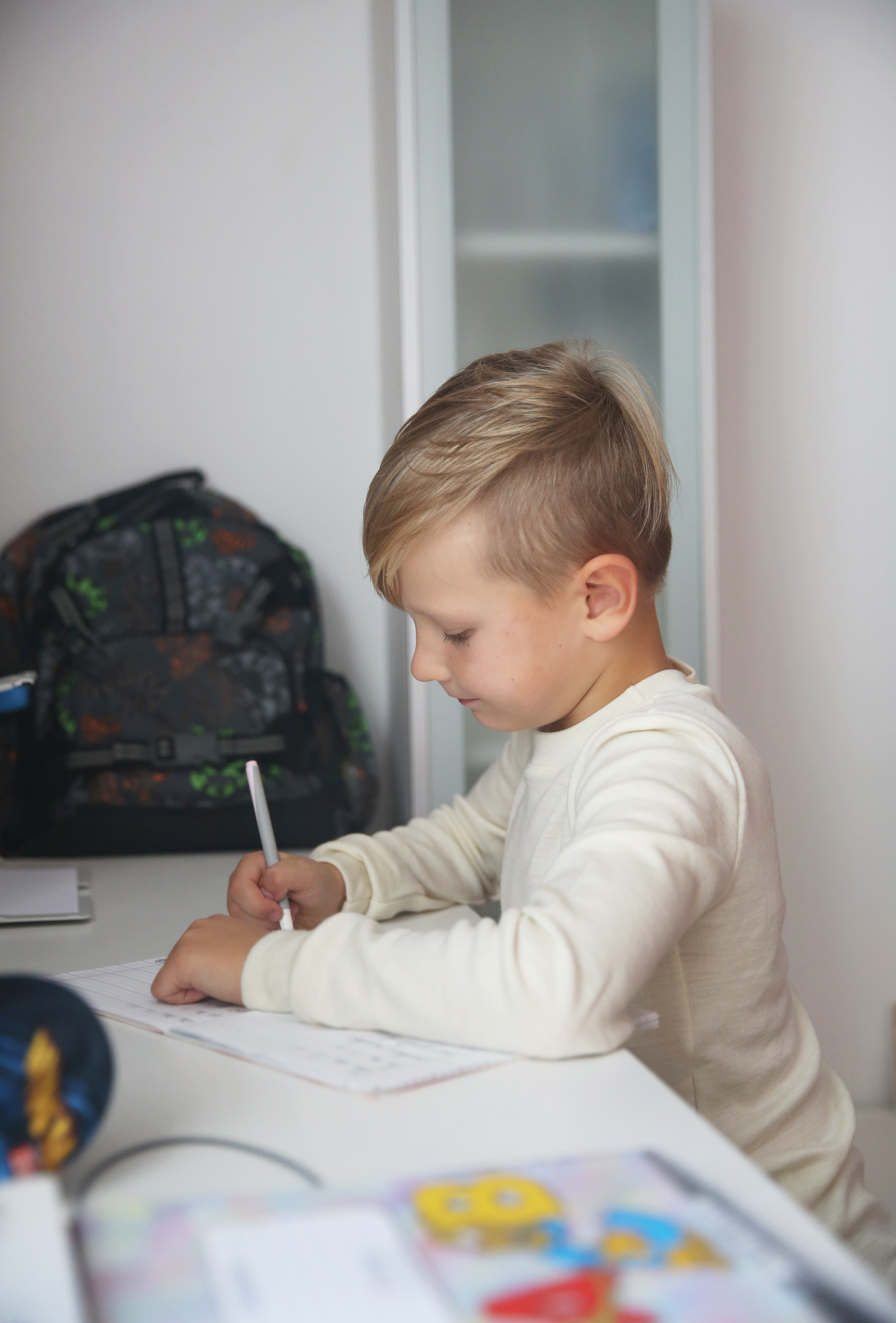 2. Merino wool high neck shirts
Just like the shirts above, the roll neck shirts are exceptionally comfortable, soft, and excellent at protecting the neck from cold weather. In addition, it's a great match for school uniforms and other school-appropriate clothing.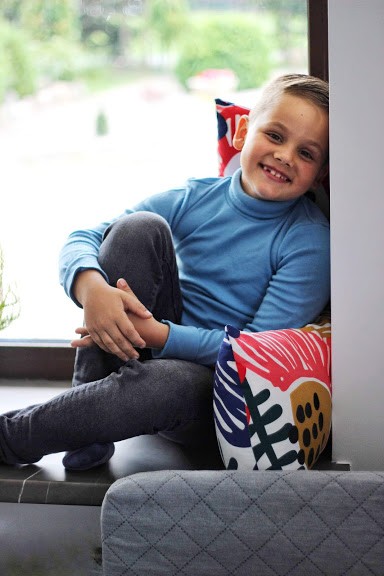 3. Merino wool underpants-leggings
These thermal pants are sufficiently thin to match any outfit. Girls can wear them as leggings in combination with uniforms, skirts, and dresses instead of tights. They can also be worn as underpants. Moreover, they do not restrict movement, yet ensure optimal warmth even during the coldest of winters. The warmth provided by this product will ensure comfort when travelling to school in chilly mornings, and prevent overheating in warm classrooms.
4. Undershirts
If you don't want to wear merino wool as the top layer, or if you have other clothes required for school, you can always go for an excellent undershirt – available in sleeveless and short-sleeved designs. To get the full merino wool experience, we recommend you wear these shirts right next to the body, on bare skin. This way, the garment will ensure optimal body temperature and function as second skin for your offspring. Upon becoming acquainted with the garment, children are often keen to keep them on during the entire winter season. For this reason, we recommend you stock up and have at least two pairs on hand.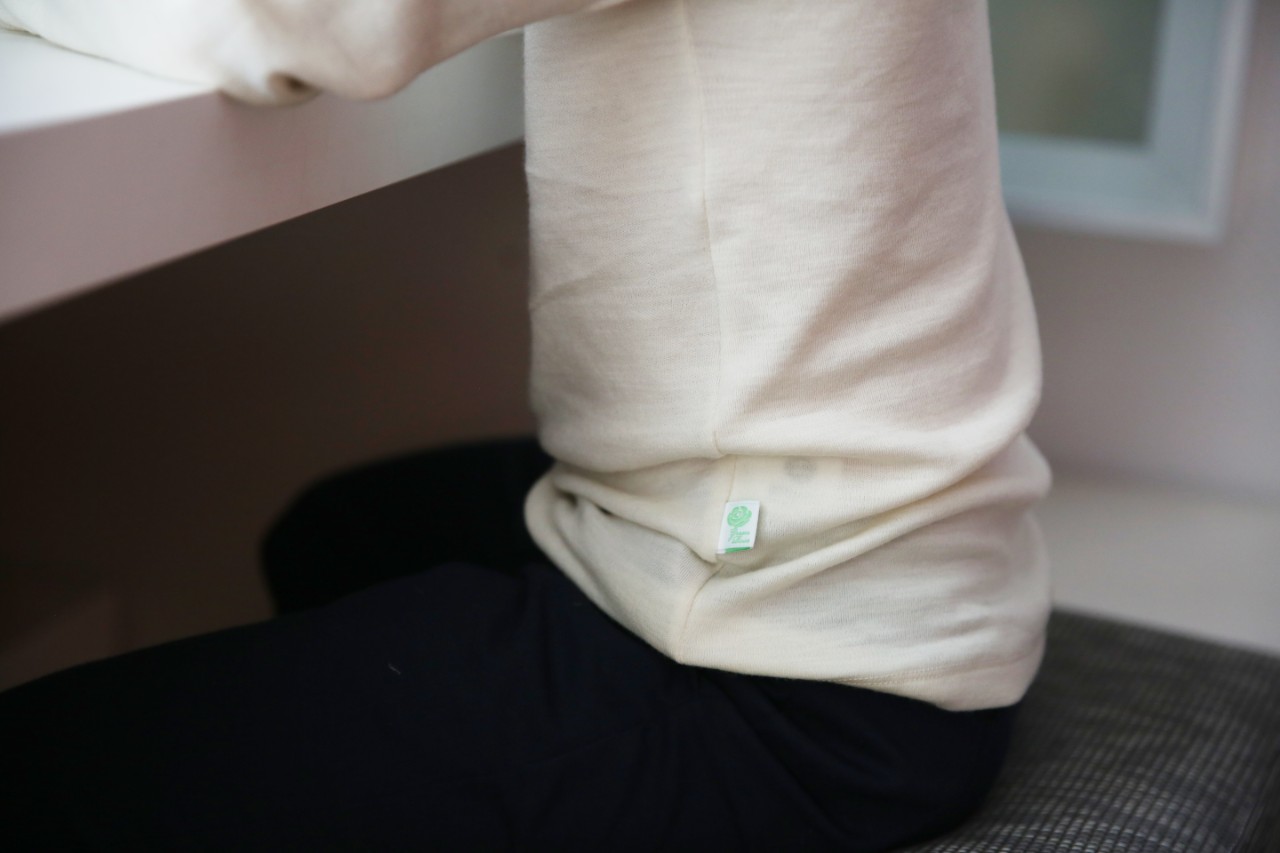 Feedback from mothers
We collected some reviews from different mothers about GREEN ROSE garments for children.
Tatjana: 'My son loves merino sleeveless undershirt! He started wearing the it as soon as it grew cold outside. This is the first time I've seen my child be so fond of an undergarment! Upon returning home from school, he takes off his shirt and walks around at home with only the undershirt. He told me he finds it very pleasant, cosy, and endearing.
Gintarė: 'We are highly impressed by the clothing pair which has already become like second skin to us. It provides me insurance that my child will be neither too cold, nor too hot. We also appreciate the fact that merino wool requires hardly any washing – all it takes is some airing out, and the garments can be worn again the next day.
The clothes look great, too. My son was appreciative of them being soft and non-irritating. Given our situation, this is an excellent choice for school, as wearing different polo shirts every day would require plenty of washing. With merino wool, however, all we need is a single shirt!'
Indrė: 'My first impressions after dressing my child in merino wool clothing are truly pleasant. The clothes are smooth, thin, and soft to the touch. Most importantly, though – they cause none of the itching that is usually inevitable with wool. Upon showing the items to my son, his initial reaction was that the white ones were ugly, yet the blue ones were kind-of-okay.
Eventually, I convinced him to try the whites on. All I can say is – WOW! They look fantastic both in combination with jeans and under a school jacket. As I was eagerly waiting for him to make a decision, I soon noticed a wide, unfading smile, at which point I knew that the shirt received his stamp of approval. He told me it was warm and felt pleasant on the skin.
Next, I wanted him to try on the blue shirt – frown. Domantas has a fear of putting on shirts and hoodies with higher collars. The fear of pulling them on over the head had prevented him from wearing them even once – it doesn't quite matter whether a garment is practical or not if you're afraid of suffocating while putting it on.
I allowed him to inspect the collar on his own and then decide if he wanted to try it on. He poked and prodded for a while, finding it soft, elastic, and non-intimidating. Let's give it a try! To our luck, the first impressions checked out – the collar was highly elastic and slid over the head with no hassle. A resounding success!
Even though the weather was deceptive, and the temptation to watch the Red Bull Soapbox Race – almost overwhelming, I decided to give the turtle neck shirt a try. What an excellent choice that turned out to be – when the whole upper body, including the neck, is covered in merino wool, there is no wind strong enough to cause the least bit of worry. However, since my son is prone to sweating, I was slightly concerned that he might overheat. And yet, despite the rain jacket not offering the greatest breathability, my son's back was warm, yet not sweaty, even after a fairly brisk walk. To sum up, my first impressions are very favourable, and I'm happy that Domantas likes the clothes as much as his mom does. He told me that we should definitely buy something similar for his brother, who's currently attending kindergarten, so he doesn't get sick as often. With that, we're all set to provide our youngest with your products, too. After all, they've been recommended by a first-grader!'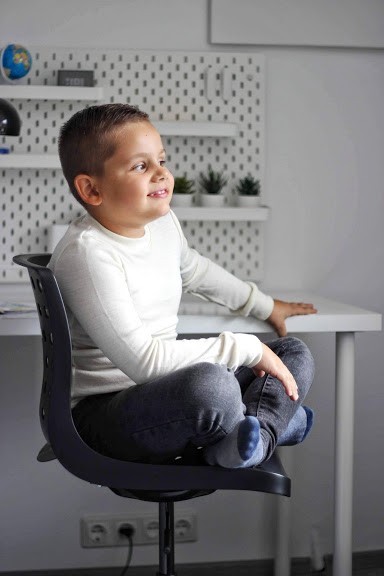 Vaida: 'I've discovered merino wool clothing by GREEN ROSE as many as 8 years ago – my son was still a baby at the time – because I found it to be the best value for money. As my son grew older, woollen clothing fell somewhat out of favour, as shirts with Spider Man or anything football-related became all the rage. However, as he started school, the wardrobe question came back with a vengeance. Even though it was warm at school, children like to run and play outside during breaks, and day trips to the museum on a city bus tend to complicate matters even further. All I wanted was for my son to be warm, but not so warm as to come back home drenched in sweat.
So, with my child at school, I'm back to looking for woollen clothing that will fit him – in autumn I go for a simple woollen shirt, to be replaced by a woollen blazer with a high collar during the cold season, in winter, and in winter he's going to wear woollen underpants by GREEN ROSE. Stay warm and healthy!'