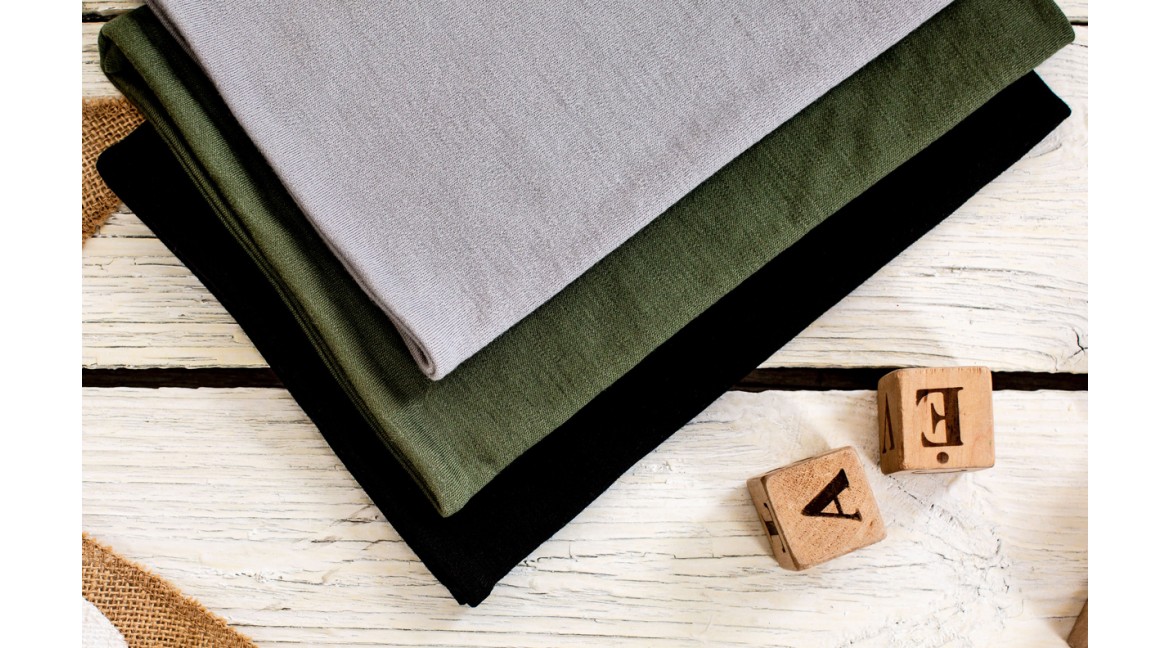 How to properly care of Merino Wool?
There isn't a person, who does not like warmth, coziness, comfort, and softness. That is because our GREEN ROSE clothes are made only of 100% certified and ecological merino wool fabric. Nowadays, merino wool is considered as one of the softest and finest wools in the world and there is no longer the idea that woolen clothes can cause itchiness while wearing them next to your body. You can perfectly choose any piece of merino wool clothes next to your body, will give you only warmth and softness. The only thing you have to remember is that you have to care for your merino wool clothing properly.
Washing
If you want your clothes to last longer and look nice as new every time you wear them, pay attention and read the care claim labels on your clothes. They are always very informative and easy to understand.
The most important thing of our GREEN ROSE merino wool thermal clothes is that there is no big need to wash them very often because the dirt does not soak into these clothes. Sometimes, it is simply enough to ventilate our clothes, and various bad smells and human body odor evaporate. So, you have to remember and follow couple of steps, while washing our woolen clothes, and they will look nice and last long.

1. Answer a question: what is merino wool? It is very soft, pleasant, and valuable wool. Many people value clothes made of merino wool because of the fiber's qualities, like warmth, softness, thermo regulating qualities, and many more. Merino wool fiber is very soft and delicate, so you have to wear merino wool clothes and care for them very carefully.
2. While putting merino garments into a washing machine and washing them with some other clothes, look carefully if there are no sharp elements, like zippers, buttons, or other sharp things, that could hook and tear off your woolen clothes' fiber.
3. The color of your woolen clothes. Although they are manufactured in a way you can wash woolen clothes of different colors together, it is highly recommended to wash dark and or brightly colored clothes separately. If you want your white (natural) merino wool clothes color to last longer and be the same white as long as possible, you have to wash bright clothes separately.
4. Now you can safely wash your merino wool in a washing machine. Before, woolen clothes used to shrink when washing in the machine, but nowadays technology let us wash them multiple times in a row without any damage. So, you can safely wash our GREEN ROSE merino wool items in a washing machine on a wool setting (usually it is at 40 degrees of Celsius). If your machine does not have a special wool cycle, you can use cold water wash or a washing cycle for delicate clothes.

Also, you can wash your merino clothing by hands. Only remember that you have to wash them in clean, approximately in 30 degrees of Celsius water, using a gentle detergent. While doing hand washing, first of all, leave your clothes to soak in water with mild detergent for a while, and then rinse your clothes gently in order not to tear the fiber off. Then wash your clothes in warm water and do this again but this time - in cold water.
One more important suggestion for you is to wash your clothes inside-out because this will protect your garment's outer surface. Do this every time you wash in a washing machine or by hands.

Washers and detergents
Now, let us talk about the detergents for merino wool. It is recommended to use mild or neutral detergents. Nowadays, shops are full of many different washers that are used for only woolen clothes. They even have wool symbols on the packets. These types of detergents have lanolin in them, and lanolin has an ability to restore and renew wool fiber. We strictly DO NOT recommended using bleach! Please remember that.
Drying and ironing
After washing your clothes, never leave wet garments of different colors next to each other. This will help to avoid any color transfer. The best way to dry your woolen clothing is to put them on a neutral or white color towel and leave it to flat dry in the air naturally.
Try to avoid:
✔ Hangers because they can stretch too much and lose their shapes due to the weight of the moisture.

✔ Radiators because the part that dries faster, might lose its natural color.

✔ Tumble dry.

If you feel the need of ironing your merino wool clothes, you can do this on the wool setting or just medium-hot. Also, it is better if you iron your merino wool clothes the same as you wash them - inside-out because of the same reason: to protect them. Also, do not use too much pressure while ironing because your clothes might become shiny in those places, and you do not want that! After ironing, always fold your merino wool clothes and put them flat, never put them on a hanger because they can change their form.
And finally, for everyone's convenience GREEN ROSE putted all of this information in a shortened listed - 'How to take care of merino wool?'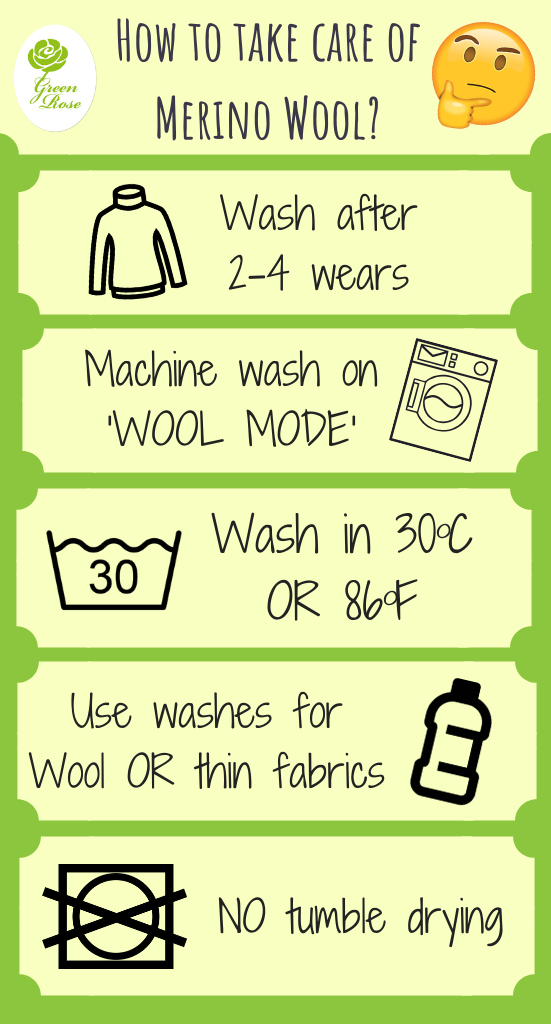 Use these instructions wisely and follow the care labels on your clothes. That way you will enjoy your merino wool clothes for a really long time. Good luck!