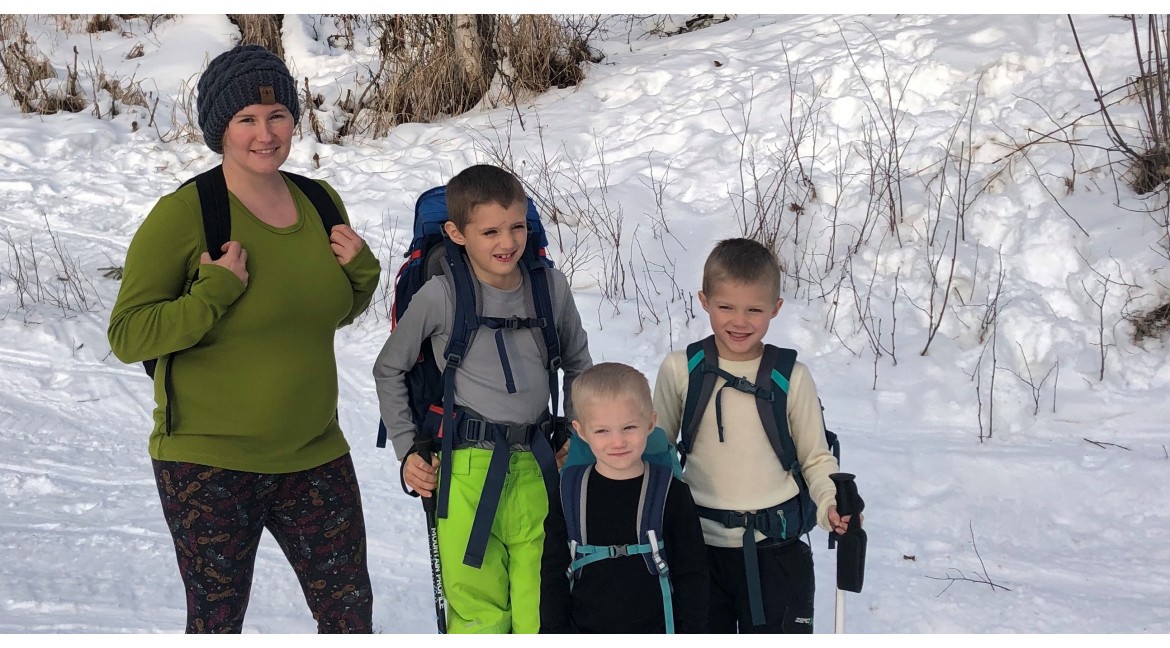 What to wear for camping and hiking
With every day the Spring weather gets warmer and warmer. And that's a good sign for those, who love spending time in nature. It means more time for hiking and camping trips in the woods!
So it becomes very important to take notice to all the camping gear that you will be using. This time we want to pay attention to the correct clothing that should be used during physical activity outdoors, especially base layer clothes. Because we all want to enjoy our outdoor fun. And constantly feeling sweaty, thinking about it and even getting a cold afterwars is the worst! That's way it is important to invest in the right thermal wear that keeps the body warm, but does not let the person overheat and sweat.
Heather, a mom of three lovely boys, shares her experience on hiking in wilderness of Alaska woods. As her family is very keen on camping trips, she knows the importance of choosing the right first layer clothing.
For base layer - merino wool
As lifelong Alaskans, me and my husband have spent many hours in the outdoors during extreme temperatures hiking, hunting, and camping. We have learned how important proper clothing is. Now as a mom of three young boys, we wanted to continue our active lifestyle. Through trial and error, I have discovered what works for keeping my family warm and happy during our camping adventures.
Temperatures can be extreme in Alaska. We continue our activities during all weather conditions, but we plan our hiking and camping trips spring through fall. Spring brings warmer temperatures and usually sun. On any given day, temperatures can range from sunny and 70 degrees Fahrenheit, to well below freezing at night, especially in the mountains. I have found this type of weather the hardest to dress for because of the temperature change. This is where merino wool has made a drastic impact for the comfort of my family.
Layering is the key for these extreme types of conditions. The first and most important layer is merino wool. The beauty of merino is that it works both ways - it can keep you cool during the hot day AND warm you up for cooler weather in the evening.
How it works, is that merino wool has the ability to wick away moisture from the skin unlike other materials, especially synthetics, which tend to hold in the wetness. In other words, merino is a breathable fabric. This makes it great for active all day hiking and also perfect for sleeping in a sleeping bag which can start off hot but by morning be chilly.
When you think of wool, often itchiness comes to mind. However, merino wool is complete opposite! It is so soft and gentle against the body. Often feels like a second skin. Plus, in comparison with traditional wool, merino is much lighther and thinner, which makes it perfect for active wear. The garments won't restrict any body movements while hiking.
My kids prefer wool products because they are so comfortable, breathable, and durable. With the correct care, merino wool can serve for couple of seasons. For more instructions about the washing and caring of merino you can find here.
We use merino wool for our base layer whether it's a long sleeve top for cooler weather
and a tank top or t-shirt for warmer temperatures. The characteristics of wool just can't be beat!
We suggest checking out GREEN ROSE shop. Whether you're looking for base layer items for your kids or yourself, you will find a high variety of thermal clothing here - from different shirts, leggings, hats and scarfs - everything that you might need for a hiking or camping trip.
Mid and upper layers
The second layer we utilize is either a thicker wool over top of the base merino or a down layer, depending on temperature. This layer holds in heat while allowing moisture to move to the outer layers. It's easy to take on and off as the temperature changes.
The final layer would be some type of wind or rain gear. This layer's job is to protect the rest of your clothes from getting wet while still being breathable to allow the moisture to escape. Often times this layer is packed in our bags until signs of rain or wind. Also, we suggest getting high quality waterproof boots because of all the dampness and moisture in the woods.
Before finding merino wool products, our outdoor adventures were limited because our kids were always cold and wet. Now the weather doesn't hold us back and our kids look forward to their time in nature. With the help of merino wool, we will always be ready for the unpredictable climate Alaska has to offer!