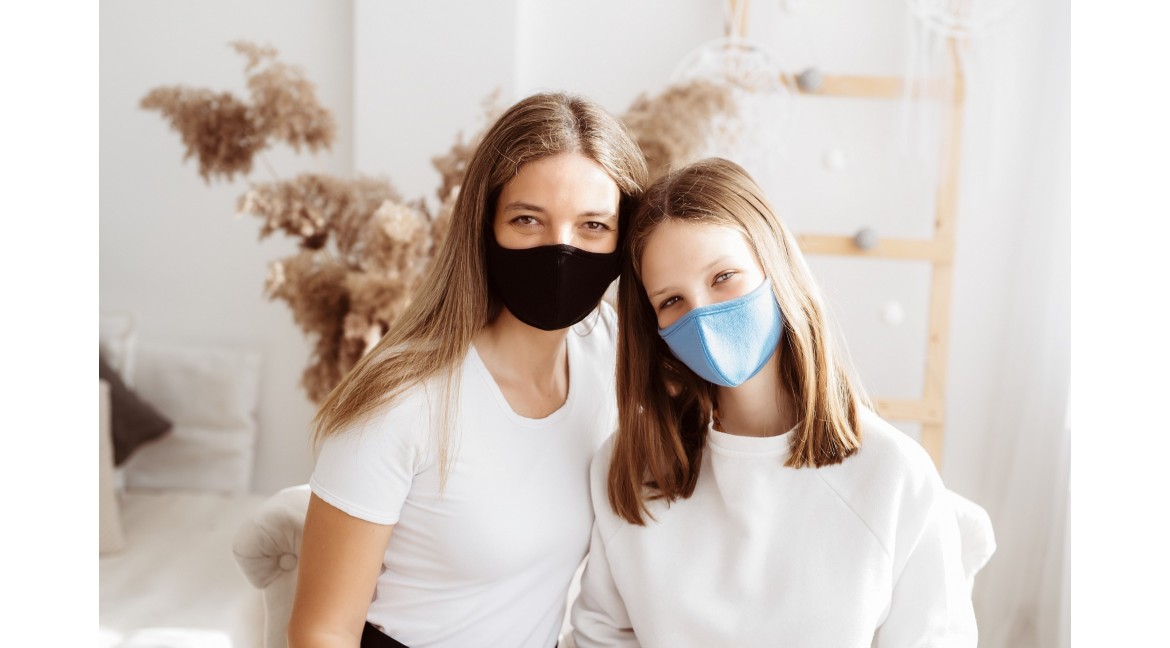 Cloth face masks - are they effective
Nowadays when it is mandatory to wear face masks, we all have questions about which kind of mask to choose in order to protect ourselves from COVID-19 and other viruses.
We have a lot to choose from: surgical masks, respirators, reusable cloth masks from different fabrics. The most valued ones are masks, marked N99 (FFP3) and N95 (FFP2). But these kinds of masks are non-reusable and have to be disposed after a few hours. This leads to more money spent and forces littering. What is more, these kinds of masks are recommended for the medical staff and should be reserved for them.
The alternative for all of us could be cloth masks. They do not have such a high protection rate from COVID-19 but are in a better reach for everyone. The World Health Organization and the U.S. Centers for Disease Control and Prevention (CDC) recommend cloth face masks for the public and not the surgical and N95 masks because they are needed by health care providers. Those are critical supplies that must continue to be reserved for health care workers. Source
Washable cloth masks
During the early 20th century, various types of cloth masks (made of cotton, gauze, and other fabrics) were used in US hospitals. Nowadays, the usage of such masks is still one of the most popular methods not just because they are the easiest to get, but also because it is possible to wash and use them again. They are sustainable, economical and save the resources of our earth.
Cloth masks are a more suitable option for community use when medical masks are unavailable. In this article, we overview both the main features of reusable cloth masks and the conditions of their usage.
Source
Why do we need face masks?
COVID-19 can be spread by people who do not have symptoms and do not know that they are infected. That's why it's important for everyone to wear masks in public settings and practice social distancing (staying at least 6 feet/1 meter away from other people).
As infectious disease specialist Peter Chin-Hong claims, "The concept is risk reduction rather than absolute prevention." He notices, "Nobody is taking a cholesterol medicine because they're going to prevent a heart attack 100 percent of the time, but you're reducing your risk substantially." Source
Using a face mask helps to limit the spread of germs. These germs are released into the air when someone talks, coughs, or sneezes and using a face mask can reduce the number of these germs. A face mask also protects the wearer's nose and mouth from splashes or sprays of body fluids.
How serious the situation actually is?
"What you want is 100 percent of people to wear masks, but you'll settle for 80 percent," said UC San Francisco epidemiologist George Rutherford. In one simulation, researchers predicted that 80 percent of the population wearing masks would do more to reduce COVID-19 spread than a strict lockdown.
The latest forecast from the Institute of Health Metrics and Evaluation suggests that 33,000 deaths could be avoided by October 1 if 95 percent of people wore masks in public.
Even if you live in a community where few people wear masks, you would still reduce your own chances of catching the virus by wearing one, said Chin-Hong and Rutherford. Source
Recommendations for mask usage
One of the options for protecting yourself and the ones around you is using cloth face masks. After reviewing 19 studies, it has been noticed that the filtration effectiveness of cloth masks is generally lower compared to medical masks and respirators. But if used correctly, cloth masks may also provide protection.
Filtration effectiveness of cloth masks depends on many factors:
✔ thread count
✔ number of layers
✔ type of fabric
✔ water resistance
✔ being fit around the face.
Source
Despite the fact that there are a lot of researches on masks, frequently one of the main features to consider becomes a comfort. Studies have compared various mask materials, but for the general public, one of the most important features may be comfort. "The best mask is one you can wear comfortably and consistently", said Chin-Hong. "N95 respirators are only necessary for medical situations such as intubation. Surgical masks are generally more protective than cloth masks, and some people find them lighter and more comfortable to wear. The bottom line is that any mask that covers the nose and mouth will be of benefit." Source
Wearing a face mask causes trouble for most people. They feel restricted by the lack of air, skin gets tired and can start showing signs of a rash. So the comfort when wearing a mask becomes very important.
Green Rose offers 100% merino wool reusable and washable face mask. The clients that already tried it, mentions the easier breathing (compared to other masks), non-irritating material for the sensitive face area. Also, when it is colder outside, the air coming through the mask is warmer.
We want to make sure that our clients feel comfortable with our masks on. At the same time, we are trying to ensure as much protection, as cloth masks can provide. So our masks are with three layers: the first, on the outside and the middle one are from 100% merino wool. The inner one, closest to the face, is merino and silk blend (75% merino and 25% silk). We chose to make triple-layered masks according to the recent researches.
"The more layers, the better," says Raina MacIntyre, an infectious disease expert from the University of New South Wales who has studied mask efficacy. In a recent study, MacIntyre and her colleagues recommend a minimum of three layers of fabric.
While the layers closest to your face can be something soft, the outer layer should be a water-resistant fabric that can repel droplets. "There's an easy way to test any fabric," MacIntyre says. "Take a piece of fabric and drop one drop of water on it and see what happens." If it soaks in, it's not repellent enough for the outer layer.
Fit is also important. You can easily breathe in germs if there are gaps between the edges of your mask and your face, MacIntyre says. For that reason, she recommends a face mask over a face shield, which is typically open at the bottom. Source
As you probably already know, wool has a feature of pushing water away. And in general, water hardly enters woollen materials. So merino wool is suitable for the first layers of face masks.
How to wear a cloth face mask
Correctly putting on and taking off cloth masks improves protection. Taking a mask off is a high-risk process because germs may be present on the outer surface of the mask and may result in self-contamination during removal. Wear a mask correctly and consistently for the best protection.
✔ Make sure that you wear a clean mask;
✔ Wash or sanitize your hands before and after putting on and taking off your mask;
✔ Place your mask over your mouth and nose;
✔ Make sure your mask covers mouth and nose. If the face mask covers only mouth and not nose as well, the protection is not sufficient;
✔ Make sure you can breathe easily;
✔ Don't touch your mask while wearing it;
✔ If you accidentally touch your mask, wash or sanitize your hands;
✔ If your mask becomes wet or dirty, switch to a clean one. Put the used mask in a sealable bag until you can wash it;
✔ Wash your hands immediately after removing your mask.
Source
What NOT to do
✔ Don't put the mask around your neck or up on your forehead;
✔ Don't touch the mask, and, if you do, wash your hands or use hand sanitizer to disinfect;
✔ Do not touch the mask when wearing it;
✔ Do not share your mask with others.
Of course, you will not be protected by just wearing a mask. It has to be combined with other precautions, such as hand hygiene, coughing and sneezing etiquette, disposable gloves etc. Keep in mind: the wrong usage of masks significantly reduces the level of protection!
Washing the mask:
✔ Wash your mask at least once per day;
✔ Use hot water for hand washing your cloth mask;
✔ Make sure that the mask is completely dry before you wear it again;
✔ If the sun is shining, leave the mask in the sun to ensure dryness;
✔ Wash your hands after handling or touching a used mask.
Source
What do we need to know about all masks?
✔ The mask helps prevent a person who is sick from spreading the virus to others.
✔ Wear a mask that covers your nose and mouth to help protect others in case you're infected with COVID-19 but don't have symptoms
✔ Dispose of the non-reusable masks after one time of using
✔ People should NOT wear masks when exercising, as masks may reduce the ability to breathe comfortably. Sweat can make the mask become wet more quickly which makes it difficult to breathe and promotes the growth of microorganisms. The important preventive measure during exercise is to maintain a physical distance of at least one meter from others.
Source
Who Shouldn't Wear a Mask:
✔ Children younger than 2 years old;
✔ Anyone who has trouble breathing;
✔ Anyone who is unconscious or unable to remove the mask without assistance.
Although masks are very important for stopping the virus, make sure that you are protecting yourself in other ways as well. Continue to practice everyday preventive actions: avoid close contact as much as possible, clean hands often; avoid touching your eyes, nose, and mouth with unwashed hands; and frequently clean and disinfect surfaces. Source
Hopefully, this article would help you decide which kind of mask to choose for yourself and your family. Keep in mind the rules for safe wearing and stay safe!